MYLAPS Reports Now Available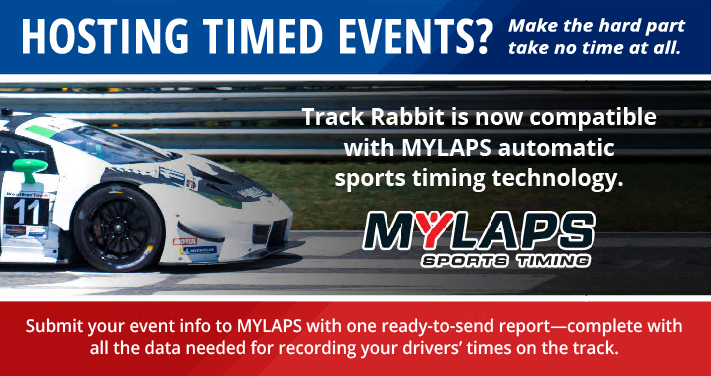 Timing events just got easier. 
MYLAPS offers a wide range of timing systems and services. Their solutions have been developed to suit the needs of professional timers, event organizers, track and club owners and federations, as well as individual racers and athletes. Their products enhance the experience for all sports categories, from professional to amateur level, from small to high/density events.
About Track Rabbit®
Track Rabbit is the streamlined registration and event promotion product from Andy Lally ALIVE®. The unique system combines sophisticated registration capabilities, with advanced automated marketing technology, and social media components to keep users informed and connected while giving racing tracks, clubs and schools the tools they need to fill their rosters and lower operating costs.
About Andy Lally ALIVE®
Andy Lally ALIVE is a digital marketing and technology, products and services business in the automotive and motorsports enthusiast space. ALIVE's vision is to fuel the automotive and motorsports industry through the development of robust products and services that engage businesses and consumers through a valuable network of data generating tools, systems, and content that encourage sharing, community, and connectedness. Learn more at www.andylallyalive.com.