MYLAPS Reports Now Available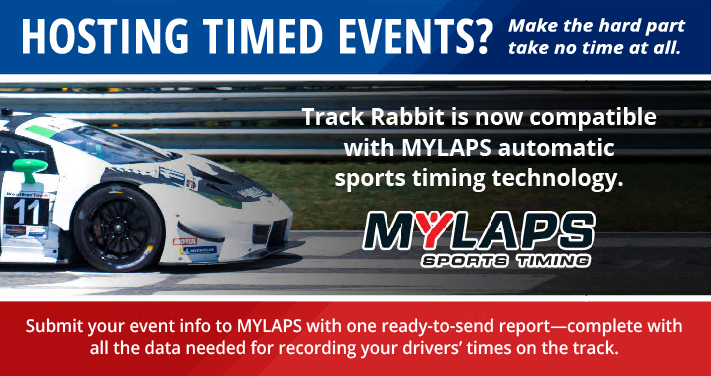 Timing events just got easier. 
MYLAPS offers a wide range of timing systems and services. Their solutions have been developed to suit the needs of professional timers, event organizers, track and club owners and federations, as well as individual racers and athletes. Their products enhance the experience for all sports categories, from professional to amateur level, from small to high/density events.
About Track Rabbit®
Track Rabbit® is an automotive and motorsport event registration and administration platform within a comprehensive marketing ecosystem. Its powerful, easy to use platform can create heightened member retention, help tap into new revenue streams, and use additional marketing channels to reach key demographics, all while reducing the overall admin. time for your team. Track Rabbit is more than a registration platform—it's a strategic partnership with a motorsports-centric professional services firm. Visit trackrabbit.com to learn more.
About Andy Lally ALIVE®
Andy Lally ALIVE® is a digital marketing and technology company that delivers an ecosystem of customized solutions, services, and unique marketing and technology products that support the automotive and motorsports industries. We serve fans and enthusiasts looking for a cohesive experience in their passionate pursuits, as well as businesses looking to reach the unique audiences that the automotive and racing industries represent. Learn more at andylallyalive.com.