MYLAPS Reports Now Available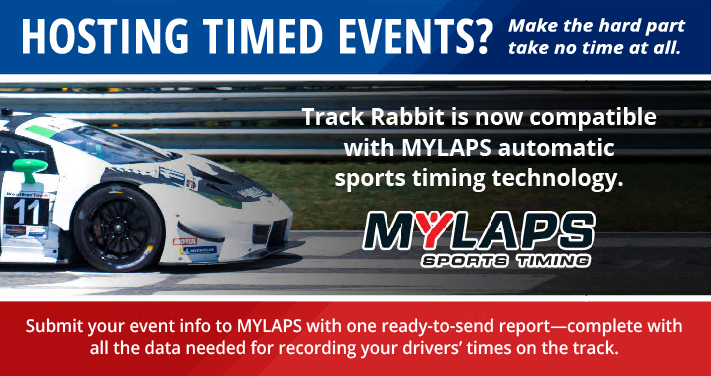 Timing events just got easier. 
MYLAPS offers a wide range of timing systems and services. Their solutions have been developed to suit the needs of professional timers, event organizers, track and club owners and federations, as well as individual racers and athletes. Their products enhance the experience for all sports categories, from professional to amateur level, from small to high/density events.
About Track Rabbit®
Track Rabbit® is a marketing-based event registration, member management, and administrative e-commerce platform for automotive enthusiasts and the motorsport industry. Through modern technology and features, the platform is designed to keep users engaged and connected, increase revenue and decrease costs for leading tracks, clubs, schools, and others who run events or manage memberships. The platform is just one of many leveraged offerings within the Andy Lally ALIVE brand and is managed by a team of experts that partner with clients to build their business utilizing both features within the technology and through sister platforms, solutions, and services. Visit trackrabbit.com to learn more.
About Andy Lally ALIVE®
Andy Lally ALIVE® is a marketing and technology company that serves automotive enthusiasts and the motorsport industry through an ecosystem of industry-specific platforms, solutions, and services. ALIVE acts as a partner to a broad number of clients and customers looking to build their business or brand through modern techniques, modern technology, and passion for the industry. ALIVE's experts are a mix of strong business acumen and industry expertise that become an extension of client teams to provide long-lasting results. Learn more at andylallyalive.com.