EMPOWERING THE MODERN ENTHUSIAST
Track Rabbit is an automotive and motorsport event registration and administration platform within a comprehensive marketing ecosystem.
Value-add
Within and beyond your platform
We offer a full-fledged system enhanced with data-driven marketing features, with more in development. You can also customize your branded white label—designed to streamline drivers directly to your site—at no additional cost.
Features include flexible fee capture options; ancillary services sales by you or your preferred partners within the registration process; as well as a comprehensive Member Management System that services multiple membership types, purchasing options, and seamlessly integrates email blast capabilities for easy communication.
These are just some of the options available to you, with the power to tailor each of them to your needs. At just 3.25% + .45¢ per transaction, you pay 2% less than most competitors. And everything is included. No annual fees. No credit card fees. No hidden costs.
White label site featuring New Jersey Motorsports Park
Power
Your team
Track Rabbit goes beyond filling your rosters. Signing up with Track Rabbit gives you the tools you need to bring your business to the next level. It's more than a registration platform—it's a strategic partnership with a motorsports-centric professional services firm.
From the start, our Implementation Team will build out your events and walk you through the system.
Then, we'll pair you with one of our in-house Account Managers, and offer a variety of custom marketing techniques.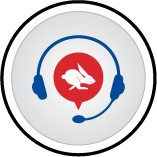 All the while, you'll be backed by the support of our knowledgeable Customer Service Team
Increase
Your revenue and
reduce your budget
Create heightened member retention for your club, tap into new revenue streams, and use additional marketing channels to reach key demographics, all while reducing the overall admin time for your team.
On top of that, you'll only pay 3.25% + $0.45 per transaction: a much lower rate than competitors. There are no service fees. No annual fees. No hidden costs—allowing you to put your budget to more important things.
Expand
Your reach and retention
Track Rabbit is just one of several integrated products that make up the ALIVE® ecosystem. Together with the MotorCrush® app and Awesome Joe Auctions™, we've built places for drivers to connect, register, and exchange.