ALIVE® Acquires Track Bookings™, Further Integrating the Motorsports Industry
Andy Lally ALIVE®, a trailblazing marketing and technology company dedicated to serving automotive enthusiasts and the motorsports industry, has successfully acquired Track Bookings™, an online motorsports network of services tailored to track day needs. This strategic acquisition marks a significant milestone for ALIVE, solidifying its position as a leader and innovator while furthering its commitment to connecting businesses and enthusiasts through industry-specific platforms, solutions, and services.
"By acquiring Track Bookings, we are expanding our ecosystem to deliver even greater value to our clients and customers," said Victoria Drach, Director of Operations of ALIVE. "This strategic move perfectly aligns with our mission to serve the automotive and motorsports industry by providing additional products and tools that enhance the connection between businesses and enthusiasts, reinforcing our commitment to driving innovation and excellence."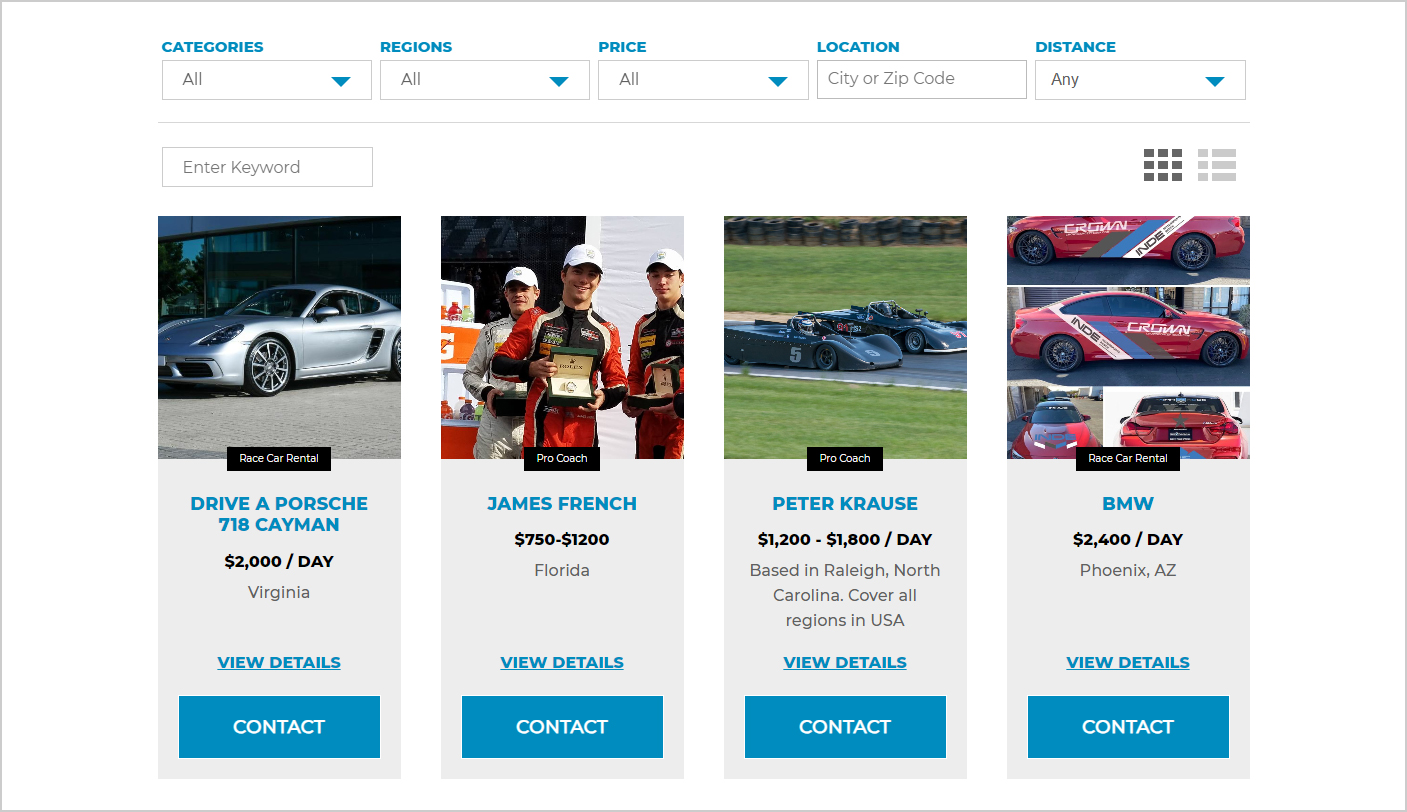 Track Bookings offers a comprehensive online platform that connects bookers with thousands of participating tracks, instructors, vehicles, and an extensive range of other provider categories. Through its meticulous filter and category system, complemented by robust provider profiles, Track Bookings streamlines the process of finding ideal matches between bookers and service providers. The acquisition of Track Bookings empowers ALIVE to accelerate platform utilization, facilitate cross-promotion of services, and enhance the overall experience for both providers and bookers.
Ecosystem Integration and Strategic Synergies
The integration of Track Bookings with ALIVE's marketing-based event registration, member management, and administrative e-commerce platform, Track Rabbit, as well as the seamless cohesion with ALIVE's vehicle enthusiast marketplace, Awesome Joe Auctions, creates a powerful synergy that expands exposure to a diverse range of automotive and motorsports enthusiasts seeking services and resources.
Through the integration of Track Bookings with Track Rabbit, event organizers gain convenient access to tracks for rent in addition to a wide array of supplementary services. This integration enhances the quality and reach of organizers' events while empowering event registrants to tailor their track day experiences to perfection. From personalized instruction and coaching to professional photography, registrants can easily customize their events to meet their unique preferences and requirements.
Furthermore, the combined resources of Track Bookings with Awesome Joe Auctions bring added value to buyers and sellers within ALIVE's marketplace. With access to personalized support and an extensive range of options, buyers can confidently navigate their purchasing journey. Sellers, on the other hand, can effectively showcase their vehicles with expert support, maximizing their selling potential. This ensures a streamlined and unmatched experience for all participants, elevating the overall buying and selling process.
Driving Industry Leadership and Innovation
The recent acquisition of Track Bookings on Monday, June 26, 2023, solidifies ALIVE's position as a driving force in the industry. With the addition of Track Bookings' assets to its portfolio, ALIVE takes a significant step forward in fulfilling its mission to advance the industry, enhance customer experiences, and lead the way in groundbreaking technology solutions. By seamlessly connecting businesses and enthusiasts through its comprehensive ecosystem of industry-specific platforms, solutions, and services, ALIVE consistently maintains its position at the forefront of innovation, reaffirming its steadfast dedication to serving the vibrant motorsports and automotive communities.
For more information about ALIVE and its comprehensive range of services, please visit AndyLallyALIVE.com.
About Andy Lally ALIVE®
Andy Lally ALIVE® is a marketing and technology company that serves automotive enthusiasts and the motorsport industry through an ecosystem of industry-specific platforms, solutions, and services. ALIVE acts as a partner to a broad number of clients and customers looking to build their business or brand through modern techniques, modern technology, and passion for the industry. ALIVE's experts are a mix of strong business acumen and industry expertise that become an extension of client teams to provide long-lasting results. Learn more at andylallyalive.com.
About Trellist Marketing and Technology®
Trellist Marketing and Technology® is a marketing and technology professional services firm that elevates businesses through performance-driven services and solutions. Trellist's structure of business, industry, and solutions-based experts provides strategic solutions that are flexible, innovative, and optimized to maximize efficiency and return. Learn more at trellist.com.