IT'S YOUR CUSTOMERS' JOURNEY, WE JUST WANT TO MAKE SURE YOU'RE CHECKING ALL THEIR BOXES
Streamlined omnichannel marketing strategies are essential for acquiring new business and optimizing revenue. However, most companies aren't making the most of their marketing dollars.
By working together, we can help you uncover any gaps through the prospecting to post-purchase phases of your customers' journey or zero-in on areas your business may be struggling with. Beginning with a customized audit, we can curate all channels that align with your goals and offer specific services in areas such as:
Customer Personas / Competitive Analysis
Branding
Product, Brochure, & Material Design
eCommerce Platforms
Our ultimate goal is to help you set up a stronger market presence that enables maximum growth and customer retention. By developing a full omnichannel presence, we can build a cohesive and in-sync journey for your customers and optimize it for long-term success.
Companies with the strongest omnichannel customer engagement strategies can see a 10% year-over-year growth, a 10% increase in average order value, and a 25% increase in close rates.²
So, whether you're just getting started with your marketing or already have a well-established strategy, make sure your customers' journey is maximizing your business opportunities.
CUSTOMER JOURNEY MAP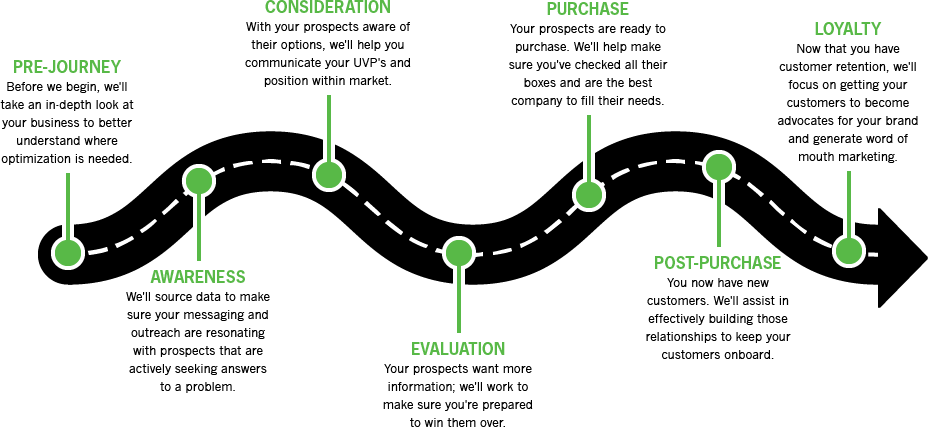 WHAT YOU'LL GET FROM US
What this service entails depends on you. Each client is different, and we want to know exactly what you need and how we can maximize your investment. Whether it's finding the smallest inconsistencies in your overall strategy or conducting a complete, end-to-end optimization of your customer's journey, we can help you at any stage you're in.
WHY CHOOSE ALIVE
ALIVE offers a full range of marketing, design, and technology services through our partnership with Trellist Marketing and Technology. Joining the ALIVE network gives you access to the entire Trellist team, top-tier industry experts, and a library of amazing services designed to help your business achieve continued and future success in the automotive and motorsport community.


¹ Source: 50 Stats That Prove The Value Of Customer Experience (forbes.com)
² Source: Key Customer Experience Statistics You Need To Know (superoffice.com)